NANCY CROSBY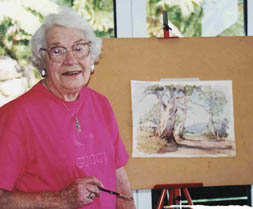 Watercolour Artist (1912 - 2007)

Pam Slattery's mother was well-known Melbourne watercolour artist, NANCY CROBSY. 
Nancy Alice Crosby (nee Knight) was born in South Australia on 29 September 1912, the same year that the Titanic sank and the electric iron was invented! Nancy left school at 16 to study art at the East Sydney Technical College.  Her family moved to Melbourne during the depression in 1930 and Nancy was fortunate enough to get a job as a Junior Artist at the well-regarded Port Melbourne printing and lithographic firm of Troedel and Cooper, where Arthur Streeton had previously been employed.
During her early years with Troedel & Cooper, Nancy gained a broad training, learning the art of poster design and labels.. She continued to work there during the Second World War, a time when Australia was short of artists.
Although Nancy became an accomplished painter in oils, watercolour was her first choice of medium, perhaps fortuitous as there was an acute shortage of art supplies during and after the 2nd World War.
Nancy had many admirers and her paintings have been  added to notable collections around the world.  In 1984 her work was chosen to be included in an exhibition of Australian paintings held at Australia House, London where her watercolours hung among some of the biggest names in the Australian art world.
Sadly, Nancy passed away on 11 March 2007 at age 94, however, she was still painting and exhibiting right up until that time.